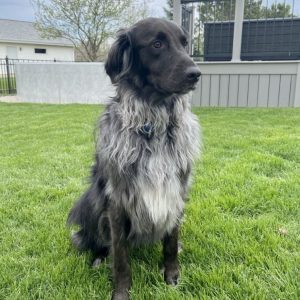 A classic look, wouldn't you say? Distinguished before my time. I'm a nearly 3-year-old golden/Australian shepherd mix.
I'm looking for a new home. My first mom gave me to As Good as Gold because she had to move to an apartment. She knew I needed more space and activity. In other words, what would be best for me is a fenced yard, and a large and playful furry sibling. I might prove to be overwhelming to small children and small dogs as I'm a big and "rambunctious" guy. On that note, I did meet children the other day, one was 8-years old, one was 12, and we did quite well together. I am not aggressive, just young and lively—okay, maybe some training would be helpful for me. (That's what I heard anyway.) I'm a bit mouthy and tend to jump. But the vet said this, "Buddy is a great dog—very friendly and fairly calm. He looks good on his physical other than being somewhat overweight." What? I need to lose a few pounds? Ugh.
The golden tendency to want to be with people is evident in my personality. Foster mom can tell that I'm not so happy when I'm separated from people by a baby gate. A family member that's home most often would be splendid.
"Super loving and a great dog" that's how my first mom described me.
Distinguished, loving, and active! I sound good to me! I hope I can find a family looking for a dog like me. Maybe we need each other.
ADOPTION REQUIREMENTS, NO EXCEPTIONS:
Be at least 23 years of age

No children under 6 years of age living in your home

We primarily adopt goldens to families living within Illinois, Northwest Indiana, and the southern most counties of Wisconsin

If you do not own your residence or live in a condo, you will need a letter from your landlord or property management company

Provide excellent vet care for your dog(s)

Do not use an invisible fence

Are not over your town/county's pet limit

Have the knowledge and agreement of all adults living in the household

Be prepared to make a lifetime commitment
If interested please fill out our online adoption application form; please make sure you fill in every required field/question or your submission will not go through. Please note that we take time to learn as much as we can about each dog in our care and our bios are our current observations; we are unable to make any guarantees on the future health or temperament of your adopted dog. Most dogs in our care come with unknown pre-rescue history and as such breed and age estimates are an educated guess.