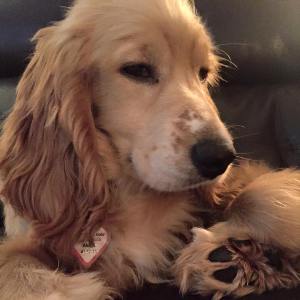 ADOPTION PENDING!!
I arrived at As Good as Gold with my four littermates.  All of our names begin with the same letter. I think that means we are an A+ group of pups! We are a wonderful mix of Golden Retriever and Cocker Spaniel. That combination suggests that we will be eager to please, gentle, loyal and intelligent in a mini Golden package.
I was very shy when I first came to my foster home. Fortunately, my litter mate Archie was also living here so we could comfort each other. My safe place to go when I want to feel secure is my crate.  The door is always open and available to me.  During my time in foster care, I have learned to trust humans and love to interact with anyone now.  My brother and I had a blast playing chase in the snow and walking on top of the drifts recently.   Besides playing untethered in the yard, I like to go for walks.  It is taking a little practice, but I am getting better at not pulling on the leash. I'm improving every day!  After lots of running, playing and walking, I like to curl up on the couch. Foster Mom says I am very spoiled.
I have only been in the car a few times, so I was pretty nervous while we were traveling to the vet recently.  Maybe when some of our car journeys end in fun places, I won't worry so much. I am potty trained and even have fun using the doggie door when I want to come back inside.  I get very excited when my family comes home or when my Foster Mom speaks sweetly to me.  I get a little tickle inside and I wiggle my whole body and not just my tail. I shimmy so much that I can hardly walk.  Everyone agrees that I am just a happy puppy and a real love.
I would like to join a family that has a dog who will be my companion and teach me acceptable dog behaviors. I will need someone home with me most of the day or arrange for a surrogate to play with me and let me out during the day.  As with all youngsters, I need to go to school to learn how to be a well-mannered member of your pack.  Obedience classes that we attend will help you bond with me and for me to make new fur friends.  What could be more perfect?
Male
1 Year Old
ADOPTION REQUIREMENTS, NO EXCEPTIONS:
Be at least 23 years of age

No children under 6 years of age living in your home

We primarily adopt goldens to families living within Illinois, Northwest Indiana, and the southern most counties of Wisconsin

If you do not own your residence or live in a condo, you will need a letter from your landlord or property management company

Provide excellent vet care for your dog(s)

Do not use an invisible fence

Are not over your town/county's pet limit

Have the knowledge and agreement of all adults living in the household

Be prepared to make a lifetime commitment
If interested please fill out our online adoption application form; please make sure you fill in every required field/question or your submission will not go through. Please note that we take time to learn as much as we can about each dog in our care and our bios are our current observations; we are unable to make any guarantees on the future health or temperament of your adopted dog. Most dogs in our care come with unknown pre-rescue history and as such breed and age estimates are an educated guess.