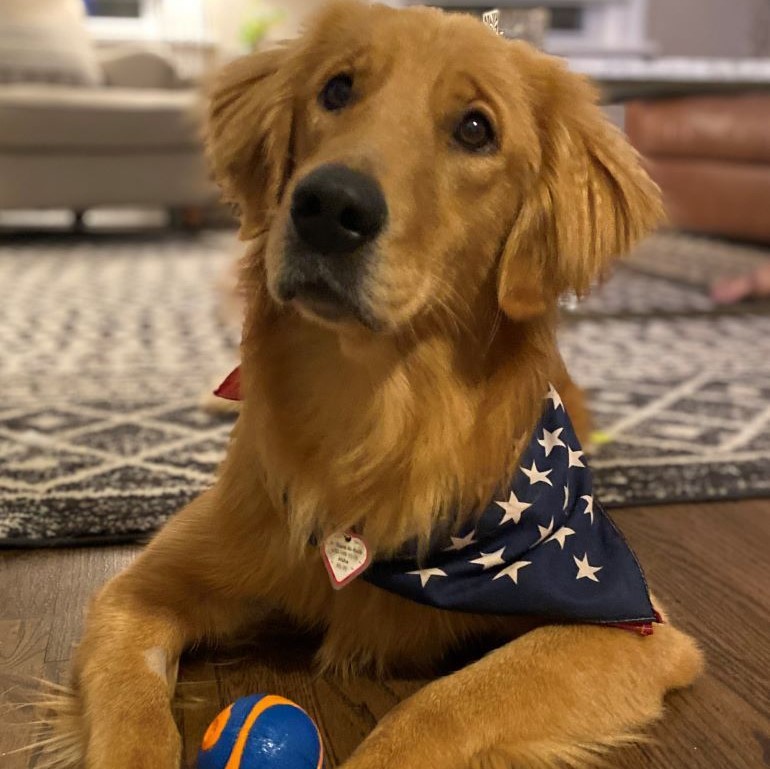 Having a BALL!
As told by Aisha's adoptive Mom, Tara
Aisha always has a ball either in her mouth or by her side.  We think of it as her "pacifier." She especially loves the squeaky ones. She will fall asleep with the ball in her mouth or with the ball right next to her. And, of course, her favorite activity is "fetch" because it involves her ball!
Aisha has another favorite activity: walks!  I have never seen a dog love walks more than Aisha. It is easily her favorite part of the day. Seeing squirrels and bunnies makes this little girl extremely happy.
She also loves bully sticks and peanut butter. Aisha does something really cute. She takes her bully sticks or peanut butter Kongs and eats them in our room on the bed away from Griffey—her furry, golden brother. She loves her privacy when she eats these, and also loves to put a mark on our white bedspread!
Aisha is the biggest snuggler and does not know personal space at all. While sleeping, she will lie right on top of you! She loves cuddling with her humans and brother Griffey. Our girl is sweet beyond belief. She does not have a mean bone in her body. She is very gentle towards humans and other dogs. Aisha just loves attention and is daddy's girl for sure. While I would like to think I am her favorite, she constantly wants to be touching Kevin. She lies at his feet while he works from home (next to her ball of course).
Aisha is constantly challenging us. She sometimes barks incessantly, and counter surfs, among other things. However, the progress we have seen with her is so especially heartwarming. It is important to us that she knows we will always be here for her, and that her new family isn't going anywhere. When we leave the house, she continues to have separation anxiety. I wish she could understand when I tell her, "We will always come home, Aisha."
We love having Aisha in our family. Her sweetness and love completely outweighs the challenges. And Aisha wouldn't be Aisha without these challenges. Welcoming this sweet girl into our home was surely the silver lining of 2020. Our 3-year-old Griffey loves Aisha, and Aisha loves him too!
ADOPTION REQUIREMENTS, NO EXCEPTIONS:
Be at least 23 years of age

No children under 6 years of age living in your home

We primarily adopt goldens to families living within Illinois, Northwest Indiana, and the southern most counties of Wisconsin

If you do not own your residence or live in a condo, you will need a letter from your landlord or property management company

Provide excellent vet care for your dog(s)

Do not use an invisible fence

Are not over your town/county's pet limit

Have the knowledge and agreement of all adults living in the household

Be prepared to make a lifetime commitment
If interested please fill out our online adoption application form; please make sure you fill in every required field/question or your submission will not go through. Please note that we take time to learn as much as we can about each dog in our care and our bios are our current observations; we are unable to make any guarantees on the future health or temperament of your adopted dog. Most dogs in our care come with unknown pre-rescue history and as such breed and age estimates are an educated guess.