Don't miss this years Chicagoland Family Pet Expo.  And don't miss the chance to save $1 on admission using the coupon below.  You'll get $1 off your admission and $1 will go to As Good as Gold allowing us to help more dogs.
The Chicagoland Family Pet Expo is March 20-22 at Arlington International Racecourse.  It is the midwest largest pet expo with over 300 booths of pet products, services, rescues and entertainment. Time, directions and full details can be found at www.petchicago.com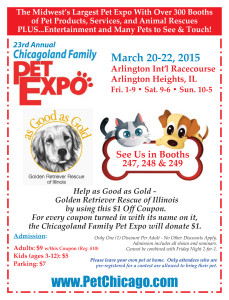 Click on the image to open in a new window (be sure to disable any pop-up blockers) so you can print and take it with you to the Chicagoland Family Pet Expo.
To download or print a PDF version, click here.