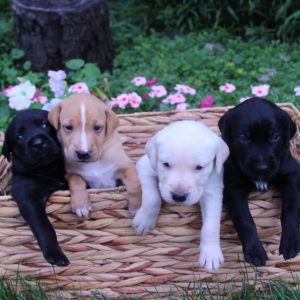 Puppies!!  Don't we look cute?  Guess what?  There are more of us than what you see.  Two wonderful mommies had 11 puppies.  One of our mommies is a golden retriever and one is a sweet little black mix that looks like a mini golden retriever.  Our daddy is a mystery.  We will be ready for our forever homes the weekend of August 13th.  If you are interested, here are some of the things to consider if you want to adopt one of us.  We will need your assurance that someone will be able to let us out every three hours to ensure our house training and give us some exercise outside of our crates. In order for us to become good citizens and to bond with you, we will also need to attend a puppy training class and at least one positive reinforcement beginner obedience class.  Please fill out an application, once received a home visit will be conducted by a volunteer and as long as you are a good match, you could be considered for one of us or future puppies that may come in.  The process takes a few weeks, so get your applications in now to be considered.  Remember, we don't adopt to families with children under the age of 6.
ADOPTION REQUIREMENTS, NO EXCEPTIONS:
Be at least 23 years of age

No children under 6 years of age living in your home

We primarily adopt goldens to families living within Illinois, Northwest Indiana, and the southern most counties of Wisconsin

If you do not own your residence or live in a condo, you will need a letter from your landlord or property management company

Provide excellent vet care for your dog(s)

Do not use an invisible fence

Are not over your town/county's pet limit

Have the knowledge and agreement of all adults living in the household

Be prepared to make a lifetime commitment
If interested please fill out our online adoption application form; please make sure you fill in every required field/question or your submission will not go through. Please note that we take time to learn as much as we can about each dog in our care and our bios are our current observations; we are unable to make any guarantees on the future health or temperament of your adopted dog. Most dogs in our care come with unknown pre-rescue history and as such breed and age estimates are an educated guess.