Dog lovers can bid on two reserved seats at the February 12-13 2018 Westminster Dog Show in New York City while at A Golden Ball. Package includes a three night hotel stay and airfare for two! And while you're there, enjoy NY highlights like the 911 Museum, Highline and shopping in your free time.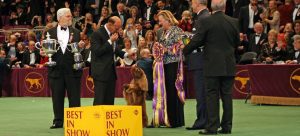 The elegance, beauty and grace of canine athletes combine with the excitement of competition in the world's most famous sporting arena before a live national television audience. This is truly the dog show world's version of the Super Bowl and the Academy Awards.
You can bid on this package and more, as well as enjoying an open bar, three course dinner, dancing and entertainment at A Golden Ball! Buy tickets today at www.gold17.gesture.com. Tickets are $140. Tables of 10 only $1,150!